Ticker Tocker offers a social marketplace of trading leaders with real-time trade ideas, automated stategies, predictive analytics, live broadcast channels and more.
Access the Ticker Tocker site from within CQG Desktop in the App store group: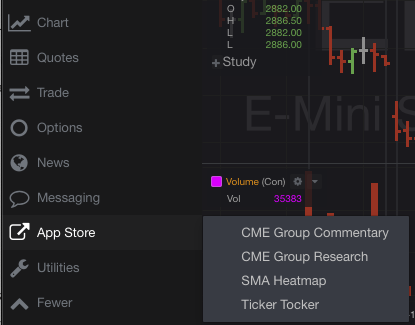 Start your Free Trial with Ticker Tocker today: https://app.tickertocker.com/
Disclaimer: CQG does not endorse, support, or promote any specific trading advice, strategy or decisions including, but not limited to, the content promoted by Ticker Tocker.
See what else is available in CQG Desktop: https://news.cqg.com/blogs/cqg-desktop
---
About Ticker Tocker:
Founded by industry veterans Stephen Kalayjian and Joseph Murphy, the concept of Ticker Tocker first came to inception when the duo realized that the trading industry needed a disruptive shift. Over the past decade, the pair built a series of sophisticated trading products, which is now integrated into one singular web-based platform in Ticker Tocker. In 2016, Ticker Tocker partnered with Eff Creative Group, a vertically integrated award winning Inc. 500 company located in Times Square, New York to work together on the creation of the new integrated platform, with a mobile app slated to launch in early 2019.