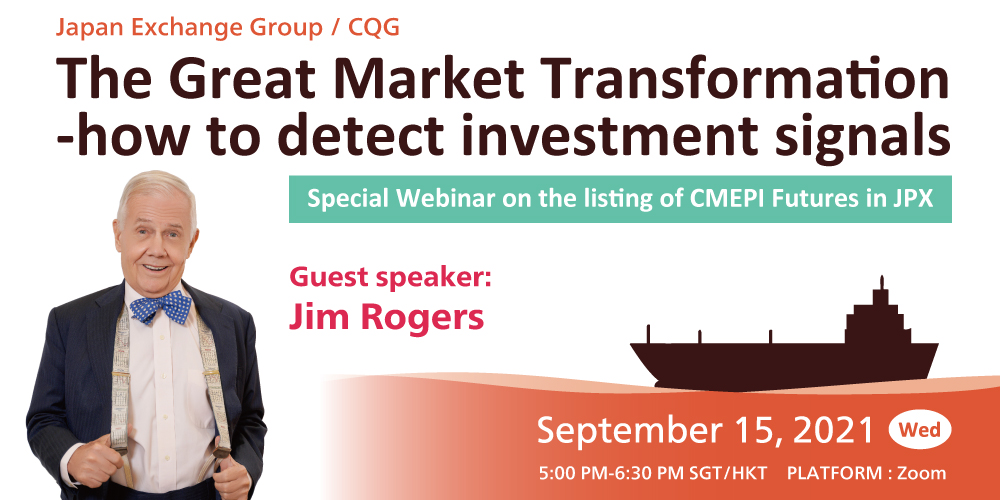 We are now on the edge of a great market transformation, driven by unprecedented environment forces including global expansion of COVID-19, disruptive climate change risks, uncertainty of the global economic growth, and increased geopolitical risks in the Middle East and Central Asia. In addition to that, many countries around the world have initiated efforts to attain a decarbonized society, potentially a game-changer capable of transforming existing energy ecosystems.
An era of such great market transformation presents unique challenges for investors assessing current market conditions. Analyzing long-term signals in equities, bonds, precious metals, crude oil, and forexalso raises new questions for investors.
To shed light on these questions and more, we are happy to welcome legendary investor Jim Rogers to the program as special keynote speaker. Jim will share his insightful views on the current market situation and future perspectives.
Japan Exchange Group (JPX) is proud to be listing a new derivatives product, CME Group Petroleum Index Futures (CMEPI Futures), on September 21, 2021. JPX's CMEPI Futures contract has an underlying index based on three CME Group/NYMEX listed energy futures contracts, WTI Crude Oil, RBOB Gasoline and ULSD Heating Oil. In this webinar, JPX will discuss this exciting new futures product, and offer insights into the current Japanese derivatives and commodity markets landscape as well. This program will also include a presentation of technical and fundamental analysis from financial technology provider CQG, with special focus on crude oil futures markets.
*Please see below for the details of JPX CMEPI Futures.
https://www.jpx.co.jp/english/derivatives/products/petroleum/cme/index.html
Presenters:
Jim Rogers Investment Expert and Author
Kensuke Yazu General Manager of Osaka Exchange
Anthony Cohen Head of Application Specialists – APAC of CQG