CQG Integrated Client and CQG QTrader customers have complimentary access to Dow Jones Calendar of Events from August 29th through October 28th.
What is it?
Calendar of Events, part of our Dow Jones news and events package, is an elegant and straightforward news calendar that allows you to track economic releases. As economic numbers are released, immediate updates occur and real-time alerts are triggered.
Recently we added a US economic events filter that can be used to monitor key US economic releases, such as crude inventories, nonfarm payrolls, housing starts, and the CPI.
How do I access it?
In your CQG system, click the Calendar button on the toolbar. If the button is not displayed, click the More button, and then click Calendar of Events. Contact us if you need any assistance.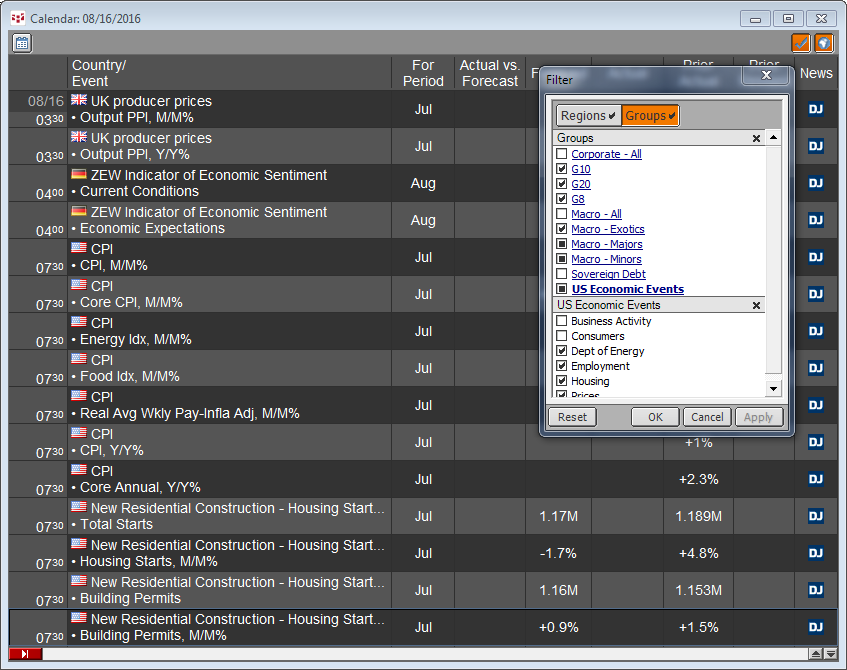 ​
Where can I learn more?
Disclaimer
​Existing CQG Integrated Client and CQG QTrader customers are eligible for a free trial of the Calendar of Events on August 29, 2016 – October 28, 2016. Prospective customers are eligible for a two-week free trial of CQG Integrated Client, including the Calendar of Events during this period. CQG version 2016 is recommended. Offer valid for new Calendar of Events subscribers only.