The CME Group Commentary and Research widgets in CQG Desktop offer articles, videos, podcasts, and daily trends. Stay ahead of the markets and check out what opportunities the CME Group insights can offer you!
Access the CME site from within CQG Desktop in the App store group: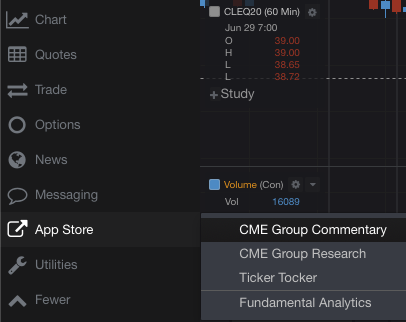 Please visit the CME webpage for more information.
Disclaimer: CQG does not endorse, support, or promote any specific trading advice, strategy or decisions including, but not limited to, the content promoted by CME.
Start your free trial of CQG Desktop today, or log on to your account!
See what else is available in CQG Desktop: https://news.cqg.com/blogs/cqg-desktop
---
About CME Group:
As the world's leading and most diverse derivatives marketplace, CME Group is where the world comes to manage risk. Comprised of four exchanges - CME, CBOT, NYMEX and COMEX - we offer the widest range of global benchmark products across all major asset classes, helping businesses everywhere mitigate the myriad of risks they face in today's uncertain global economy.