Watch this webinar to see professional futures trader John Netto, who is a longtime CQG customer, manage positions in real time across an array of asset classes, including currencies, metals, energies, equity indexes, and fixed income.
Mr. Netto trades with real money and uses CQG's charting, order execution, and analytical tools to manage risk and take on exposure in the market.
He explains how news, technicals, market positioning, and implied volatility are influencing prices. Witness Mr. Netto's working orders, stop orders, and positions live, which help you bridge the gap from theory to execution.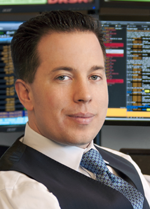 Presenter: John Netto, President The Protean Trader
Bio: John Netto is a professional futures trader and President of The Protean Trader. He is the author of One Shot - One Kill Trading: Precision Trading through the Use of Technical Analysis (McGraw-Hill, 2004) and The Protean Market - Global Macro Strategies for Traders, Investors, and Advisors, which will be released in 2013 (John Wiley & Sons). He has presented on behalf of Eurex, CME Group, and IntercontinentalExchange. Mr. Netto has appeared on Bloomberg Television, CNBC, CNN International, Fox Business Channel, and PBS. He has been quoted by The Wall Street Journal and Dow Jones Newswires.