This Microsoft Excel® spreadsheet tracks the front month contracts of the PowerShares® DB Commodity Index (symbol: DBC) holdings. The actual ETF holds deferred contracts. More information about ETF can be found here.
The PowerShares DB Commodity Tracking ETF tracks an index that includes 14 of the most heavily traded and liquid physical commodities:
WTI Crude
Brent Crude
Gasoline
NY Harbor ULSD
Natural Gas
Gold
Silver
Copper
Zinc
Aluminum
Wheat
Corn
Soybeans
Sugar
Three of the markets (copper, aluminum, and zinc) require the LME Select enablement; the rest require CME GLOBEX.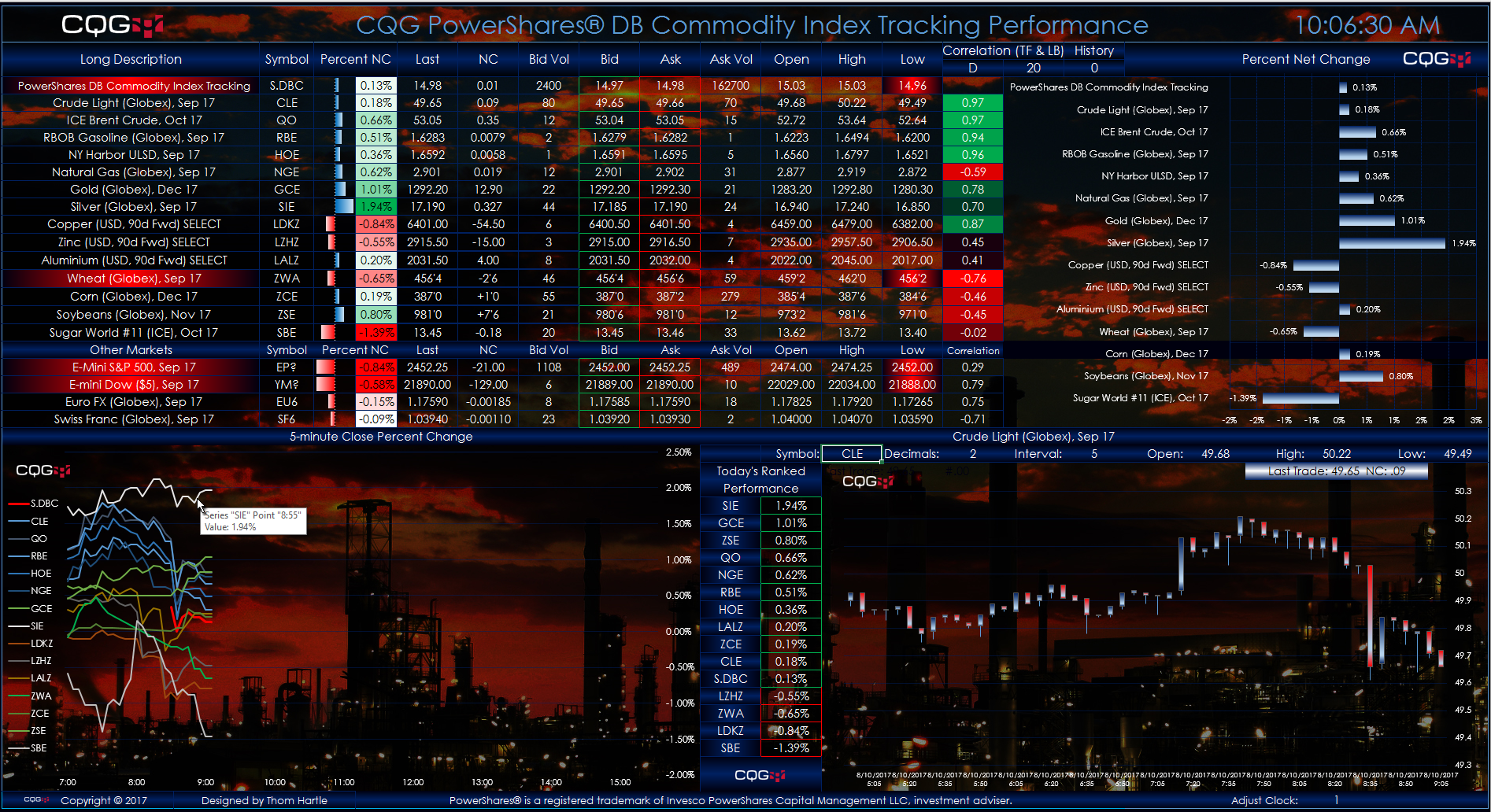 The quote display portion of the dashboard offers a high/low color alert. If the last prices is within two ticks of the high, then the high price and descriptions are highlighted with a green background. If the last prices is within two ticks of the low, then the low price and description are highlighted with a red background. Also, the last column displays the correlation each commodity market has with the ETF. You can change the time frame and look-back period for the correlation analysis.
Below the quote display is a 5-minute net percent change line chart for all of the commodities. This chart updates throughout the day starting at 7:00 and ending at 15:00 Central Time. Next to the chart is a dynamically ranked percent net change table. Also, you can roll your mouse over any line to see the symbol and percent net change at that time.
Also available is an open, high, low, and close chart. Enter the symbol, decimal formatting, and time frame.
The dashboard is available with a black background or an oil refinery background.
Make sure to lower your Excel RealTimeData (RTD) throttle to 50 milliseconds or lower. Learn how to do that here.
Requires CQG Integrated Client, data enablements for CME Globex and London Metals Exchange Select, and Excel 2010 or more recent.
PowerShares® is a registered trademark of Invesco PowerShares Capital Management LLC, investment adviser.
Downloads