Are you informed about the fundamentals and current commentary underlying the future contracts you are trading?
The included page setup in CQG Desktop brings your focus to the current prices of the futures linked to a daily continuation chart and a weekly chart. In the same window, you now have the CME Group Commentary and the CME Group Economic Research. Uniting technical and fundamental information all in one location leads to better decision making.
Access the page in the "+Add Page" menu: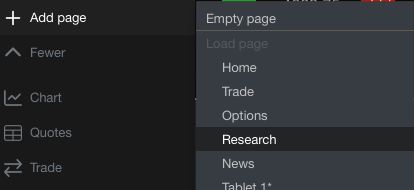 The CME Group Commentaries are an up-to-date analysis of fundamental data and the market's reaction to it. There is a commentary for every major asset class including equities, interest rates, foreign exchange, energy, metals, grains and livestock.
The CME Group Economic Research provides expert insights and analysis of market events, major economic themes and trends driving opportunities today. The research adds a global perspective to the major asset classes. The research tracks the global fundamentals of commodities such as gold, oil and interest rates. The research also tracks the activities of Central Banks in the major economic centers.
Below is screenshot from the new page in CQG Desktop.
The widget on the right is a Quote Spreadsheet, in this screenshot displaying the interest rate futures and linked to the Quote Spreadsheet is a 30-year US Treasury active daily candlestick chart and a 30-year US Treasury weekly candlestick chart.
On the left side are the two widgets, the top widget is the CME Group Commentary focused on the interest rate market and the market's reaction to the most recent economic reports.
The bottom widget is the CME Group Economic Research displaying a report focused on the global Central Banks and their respective approaches to controlling inflation.
These two widgets can be found in the App Store on the left toolbar.
This page combines both the fundamental analysis and the technical analysis to assist the trader in make trading decisions.
At news.cqg.com, CQG posts additional commentaries and podcasts focused on the global economy.