On December 13, 2022 the November Consumer Price Index was released and the reported readings were lower than expected as detailed here in the CQG IC Calendar of Events.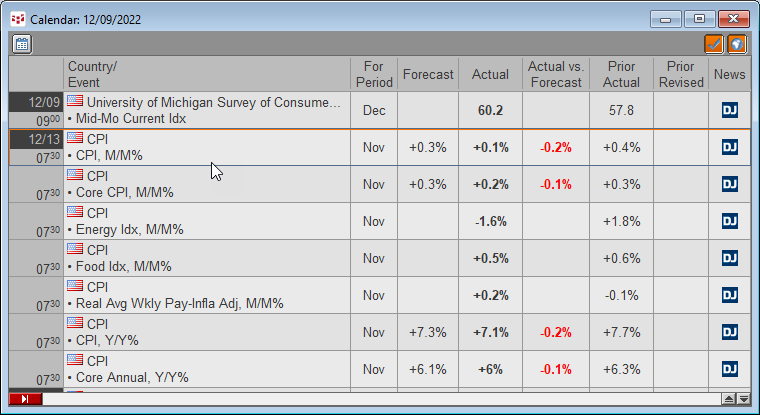 The equity markets reaction (as shown here by the one-minute bar chart of the March 2023 E-mini Nasdaq 100 futures contract) was a dramatic rally. However, note that the 7:31 minute bar is blank on the chart. What happened?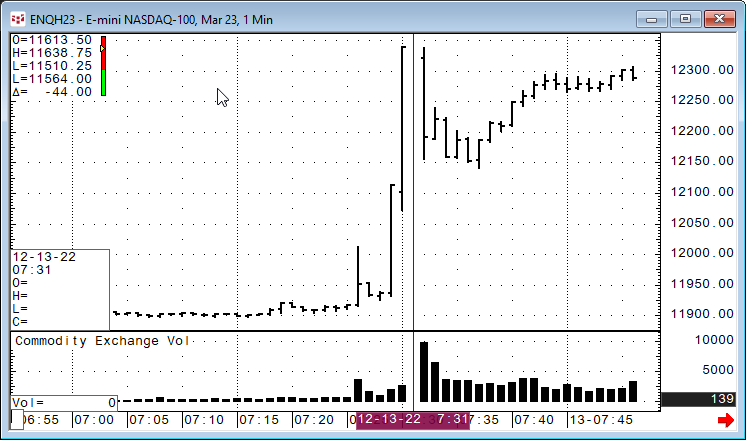 One of the CME's Market Integrity Controls kicked in: Velocity Logic.
According to the CME web site: "Velocity Logic is designed to detect market movement of a predefined number of ticks either up or down within a predefined time.
Velocity Logic introduces a momentary suspension in matching by transitioning the futures instrument(s) and related options as follows:
When a lead month futures instrument triggers an event:
IF the lead month futures instrument belongs to an equities, metals, energy, treasury, or FX instrument group, Then the entire group will transition into the Pre-Open state; ELSE
the instrument will transition into the Reserved state
And
the following actions occur in the corresponding options markets:
options auto-reserve functionality automatically pauses matching in the associated options and options spread and combination markets
all resting mass quotes are canceled when the auto-reserve functionality is initiated.
This Reserved State is maintained for a few seconds after the futures instrument has resumed trading. During the reserved period, customers can submit, modify and cancel orders. Mass quotes are rejected.
Allowing the user community this momentary opportunity to enter, modify, or cancel orders in this situation provides the ability to re-establish the proper market prices."
For more details including a video about Velocity Logic, please visit the CME's web site.